Shrimp with Garlic Sauce Recipe
Packed with aromatic garlic, fresh veggies, tender wood ear mushrooms, and Greg's signature sauce.
By Chef Greg Wong
Want to receive more FREE recipes from Chef Greg Wong? Sign up here!
INGREDIENTS:
Shrimp (1 dozen pieces. Peeled & de-veined.)
1/2 onion into 3/4" to 1" pieces
1/4 cup red bell pepper cut into 3/4" to 1" pieces
1/4 cup green bell pepper cut into 3/4" to 1" pieces
1/2 a small can sliced water chestnuts
6-8 pieces dried black fungus
3" head pieces green onion cut into 1/2" pieces
cooking oil
SAUCE:
1/2 cup chicken stock
2 tbs soy sauce
1 tsp mushroom soy sauce
4-6 dried red chili peppers
1 1/2 tbs sugar
1 tbs white wine vinegar
1/8 tsp sesame oil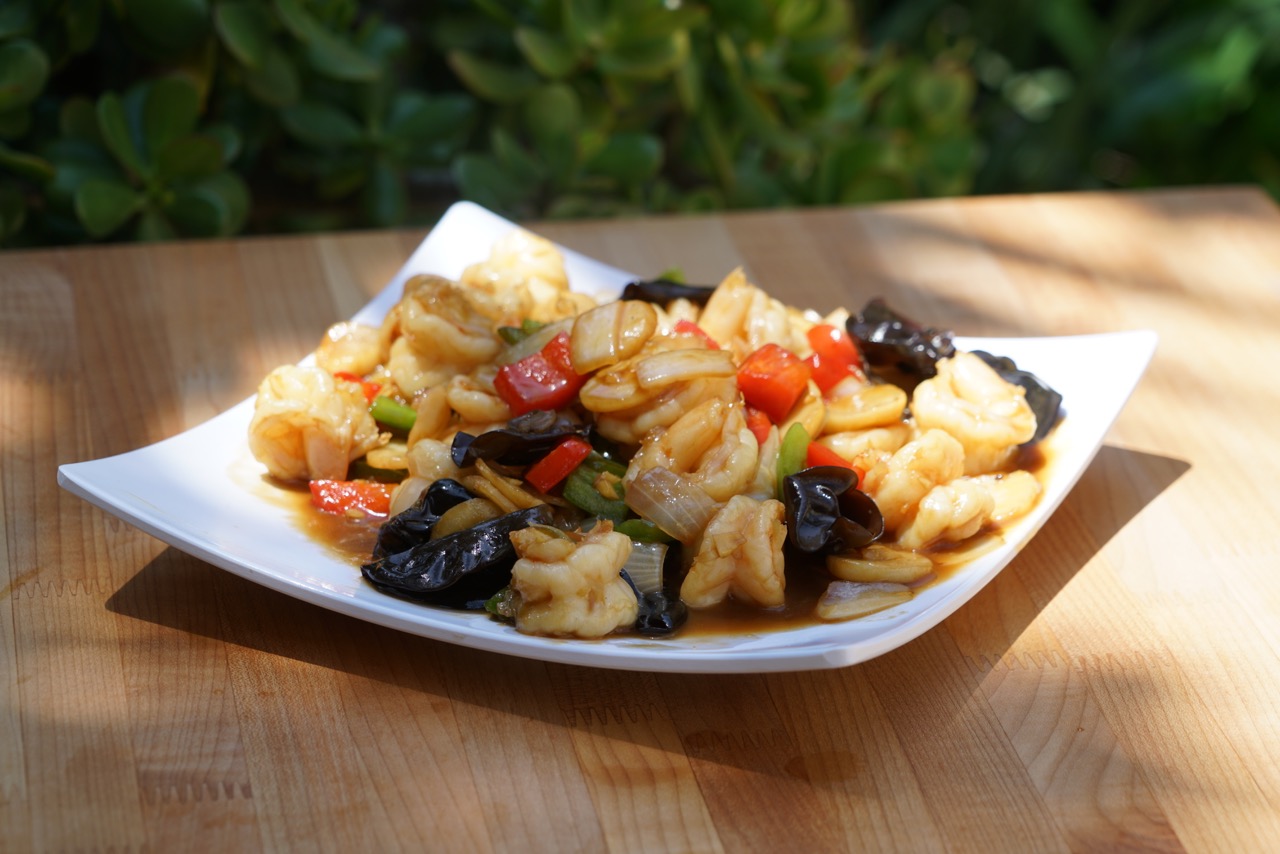 2-3 servings
With your wok pre-heated, add the oil and cook the shrimp and vegetables at the same time, stirring carefully. When the shrimp starts turning opaque, (do not over cook the shrimp, they will cook more when added to the sauce), remove the shrimp and veggies from the wok with your strainer and remove the frying oil from the wok, turn the heat off, Set aside.
Lubricate your wok again with oil, add the garlic, ginger, chopped green onion, cooking wine, and pre-made sauce back to the wok and mix. When it's heated up, return the shrimp and vegetables to the wok. Stir and then (optional) add a small amount of your cornstarch mix to thicken the sauce tossing thoroughly, finish up by adding the vinegar and sesame oil to the mix then add about 1-2 tbs. oil around your sauce in the wok–this will allow you to now turn up the heat to get your smokey finish. Enjoy!